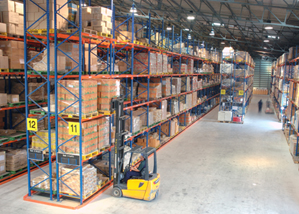 On a national and international scale, companies are continuing the trend to outsource their logistics demands to third party logistics providers, preferring to focus their resources on their own core businesses. The Freight Company helps you to manage your inventory and reduce your inventory costs.
The Freight Co Ltd is the leading partner of choice where customers can enjoy secure, reliable, accessible and well-managed distribution centers that are synchronized with their supply chain operations.
We offer value-added logistics solutions encompassing warehousing and distribution as well as a wide range of other related services including labeling, packing and unpacking cargo directly from containers and distribution of packed goods.
At The Freight Co Ltd, we not only help to manage your inventory, but also help to reduce your inventory costs.
Core Services:
In- or Outdoor Storage
Pick and Pack
Inventory Control
Order Fulfillment
Labeling
Quality/Quantity Control
Repackaging
Value Added Services:
Operate/Manage Clients
Warehouse
Computerized WMS
Web-Based Order Processing
Web-Based Real-Time Track and Tracing