In today's world of fast moving events putting together logistics solutions for complete projects is one of the biggest challenges to face logistics companies. As hardly any project is same or similar it requires a great deal of flexibility, technical know-how, personal engagement around the clock and tenacity dealing with the vast number of entities involved in large-scale projects.
The key industries we are dealing with are
Oil and Gas

Power

Engineering

Construction

Mining

Pulp and Paper

Wood
Automotive

Cement

Textile

Breweries and Bottling

Communication

Infrastructure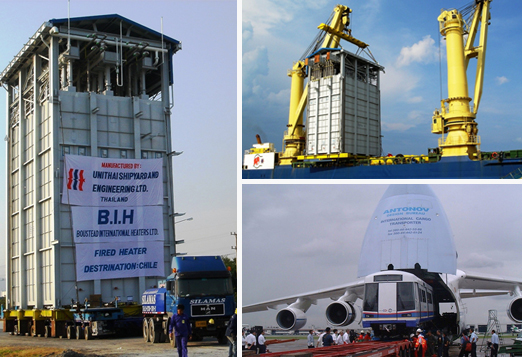 For our project customers we provide a number of special services which are individually designed depending on the nature, location and general challenges of the project.
While moving or lifting heavy, oversized or otherwise sensitive and valuable cargo we adhere to the highest possible transportation and lifting standards. To guarantee the best possible standards and keep abreast with the development in the heavy moving and lifting industry we are supported by the worldwide network of project logistics specialists of the Global Project Logistics Network (GPLN).
Core Services:
Establishing Logistics Concepts
Budgeting Turnkey Projects
Method Statement /
Risk Assessment
Planning and Route Surveys
On-Site or En-Route Supervision
Providing Special Equipment such as Heavy Duty Trailers,
Lifting/Rigging Equipment,
Barges, etc.
Air- and Vessel Chartering
Value Added Services:
Industrial Packing and Crating
Documentation
Transport Insurance
Warehousing
Staff Implants
Web-Based Real-Time Track and Tracing